The length of any trip should not be counted in terms of the days. It should be counted in terms of the dinners and lunches that you have had that made your day memorable. Here is a list of classy restaurants of New York that would make you feel like going back again and again. Why would you want to waste on a meal especially when you are in the town for a couple of days? These places ensure that they get it right in terms of ambiance, flavors and the hospitality that they have to offer.
This is a laid back, cool Italian restaurant that has earned a reputation for serving delectable Italian food. The place is pretty damn nice especially if you manage to reach early in evening when the rays of the sun light up the place through the big windows. The menu changes daily. Hence you would have something or the other new to try while at this place. The appetizer is the strongest section. This place is nice to have a cocktail or a glass of wine. Do not be deceived by the simplicity with which things are done here. You need to dig beneath the exteriors to find the treasure hidden underneath. The pastas served are hearty and delicate. The ambiance is warm and definitely is going to give the special occasion a vibe that it requires. The leather banquettes, high ceilings and the brass fixtures exude elegance in the best possible manner.
The best shows in New York City are staged in bars and restaurants rather than in theaters. This rooftop bar combines a dreamy touch which its layer of theatricality. This restaurant offers a imperial view of the glistening West Side buildings. Gallow Green features weathered wooden tables, grilles woven with flowers and a floor of slate and pebbles. The menu comprises of rich selection of punches that have been developed by drink historian David Wondrich. The immersive theatrical experience is what makes this incredibly beautiful rooftop restaurant stand out. The overgrown shrubbery, live jazz band and perfect detailing bring this place alive. This restaurant offers 360-degree view of the city. Diners can drink and eat to their hearts' delight with unlimited food from the buffet, Bloody Mary's coffee, Bellinis, unlimited mimosas for just $50. The place offers a perfect setting if you want to catch up with a friend.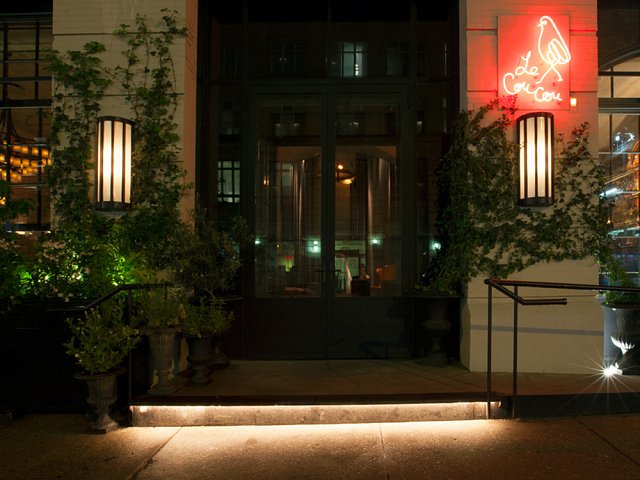 Le Coucou is known for serving elegant and inventive dishes. The credit goes to Chef Daniel Rose who has won critical acclaim in Paris for his restaurants. The place serves deconstructed lobster salad along with sauce. Veal terrine is served with milkweed pods rather than with cornichons. The restaurant reminds one of the personages of the glory days. Traditional restaurateur, Stephen Star brings retro theme to life with his old-fashioned ways. Daniel Rose churns out seasonal recipes in an uncluttered style. This ambitious little restaurant is known for its meticulous service. You can indulge in decadent chocolate mousse topped with chocolate shavings or in a country rice pudding at the end of your meal. This comfortable, cavernous French restaurant in New York City manages to steal the hearts of people with its luxe ambiance and delectable recipes.
This place was celebrated instantly for its creative pizzas soon after it opened up in 2008.
A visit by Bill and Hillary Clinton, a line of frozen pizzas and a cook book attracted major investors in this restaurant. This place is mobbed with tourists and locals alike. The chances are pretty high that you will have to wait for an hour to find an empty table here. You can indulge in a drunk at the bar in the garden and grab few slices of focaccia while you are waiting for your turn to gorge in some delights offered at this place. The seasonal pieces, the Bee Sting topped with chili oil, honey and pepperoni, the Famous Original Pizza topped with herbs, three cheese and tomatoes and unexpected tasty combinations have earned a massive reputation to this popular dining destination in the New York City.