New York City is a popular destination all around the year. Although it is difficult to find hotels that would charge you less than $100, you can find cheaper hotels during the slowest season. The city is home to over 2000 hotels. Not all have been created equal. Every traveler is aware of his or her requirements and can find accommodation options based on their budget. You can indulge in countless activities once you have found an ideal place to stay while in the city.
New York City offers dozens of budget options in the form of boutique hotels such as the Franklin Hotel in Manhattan to popular chains such as the Ramada Bronx. Dozens of options are available when it comes to budget choices. Exceptionally affordable rooms can be found by business travelers at the Holiday Inn which is located in the Wall Street. The Upper West Side region has few budget hotels. You can try Aloft Harlem if you are looking for an affordable accommodation in Harlem.
Midtown is one of the ideal destinations for visitors who want to find an accommodation options near best entertainment and shopping areas in the city of New York. The Hilton Times Square, Inter Continental, Element by Westin and Crowne Plaza Times Square are popular choices of hotels in the area. A hotel room in Ritz-Carlton offers a glimpse of the Statue of Liberty.
New York City also offers home rentals and room share options that offer an unparalleled experience to the visitors. Over thousand options are available on Airbnb where you can find any kind of accommodation option. You can easily find a private room in a shared apartment for less than $100. If you are apprehensive about dining at the pricey restaurants while on a tight budget, you can consider renting an apartment which offers access to a full kitchen.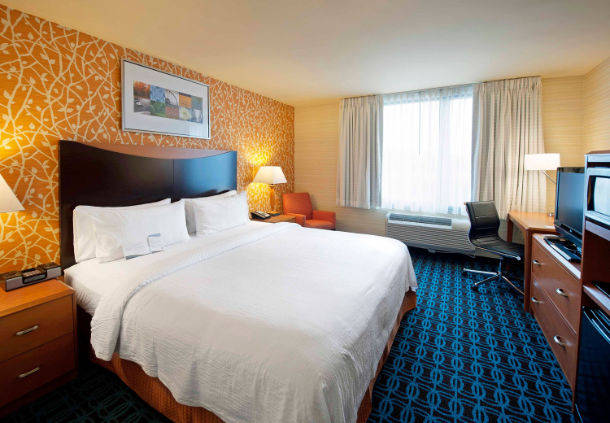 There are plenty of hotel options available near the John F Kennedy International Airport. The Fairfield Inn by Marriott, Best Western Jamaica Inn and Comfort Inn are some of the reasonable choices. The city offers plethora of options to the visitors no matter what their budget is. Accommodation options are available in the prominent regions in the city. Almost all the hotels are equipped with modern amenities such as free Wi-Fi-access, minibar, entertainment options and a lot more. The more you are willing to spend, the more you would be offered.
There are plenty of options available if you have plans to spend more. You are in the right city if you are looking for a luxe experience. The luxury hotels offer stunning views of the city and house the best bars and restaurants in the city. You will not have to step out of your hotel for indulging in some good food. The hotels have nothing but the best experiences to offer.